House of Cappadocia is a historical Greek mansion built in the early 1700s.
It belongs to a priest who lived in Cappadocia in the last days before it became a hotel.
The mansion consists of 6 rooms in total. While 2 of the rooms are cave rooms carved from natural rock, 4 of them are stone and arch rooms. Each room has its own shower and toilet. Due to its natural structure, the rooms keep warm in the winter and cool in the summer, so there is no need for air conditioning.
House of Cappadocia has a communal terrace and courtyard garden.
House of Cappadocia hotel is located approximately 3-4 minutes walking distance from Ürgüp town center.
House of Cappadocia is close to museums, ruins and sightseeing spots in Cappadocia.
HOTEL FACILITIES
Terrace, garden, breakfast (charged upon request), kettle, tea, coffee and glass of water in the rooms are welcome treats free of charge. The rooms also have a wardrobe and armchairs. Personal toilets and bathrooms include hair dryer, make-up mirror and table, shampoo, soap and towels for guests' use. At the same time, there is a television and free Wi-Fi internet in the rooms for our guests staying at the House of Cappadocia.
OTHER OPPORTUNITIES WE OFFER TO OUR GUESTS
-Airport and bus station transfers Vip and Shuttle (for a fee)
-For our guests who make a reservation, free information about activities such as Hot balloon tours, ATV tours, Cappadocia region tours is provided via Whatsapp, and then reservations are made on your behalf.
-We are happy to assist our guests in every matter they need during their stay.
Delux Room Photograph 2 Double room and bed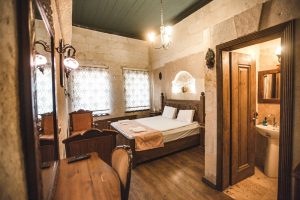 Cave Room Photograph 1
Double room and bed
Cave Room Photograph 2
Double room and bed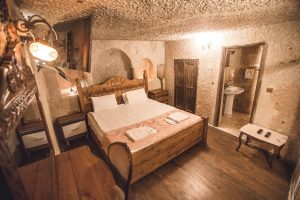 Delux Room Photograph
Double room and bed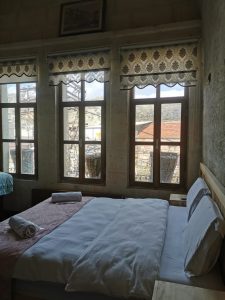 Delux Family Room Photograph 4+1
Double room and bed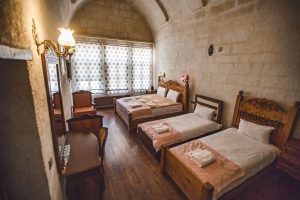 Delux Family Room Photograph 3+1